Hall Hire
We are proud to have a versatile facility available for hire at extremely reasonable rates. We have part or whole day hire, weekend hire or long term hire available. The venue is ideal for workshops, award events, celebrations including dinners, receptions and dances.
Contact us to discuss your needs
on 06 328 7890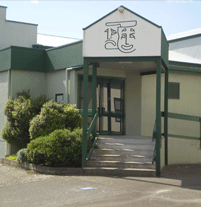 Green Door Wardrobe Hire
Need a costume
Theme party, Halloween, or any event where you need a costume of some kind. We have it all at our Costume Hire.
The Green Door Wardrobe Hire is open every Wednesday between 12 and 2pm.
Any queries please ring 06 323 4173.

Check us out on FACEBOOK
Tommy Tucker
Presented to you by the Feilding Little Theatre Players.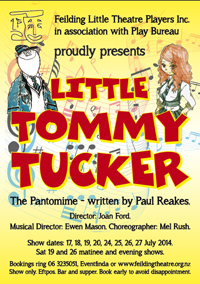 Tommy Tucker's story is about Dame Ditty who runs a successful school of singing much to the disapproval of rival Dr Discord.

When the Duke of Sterling arrives in town with his beautiful daughter, Sophie, the rivalry is brought into the open and a singing contest is held at the local fair. Doctor Discord, knowing that Dame Ditty only has female students, arranges that the contest be for males only. He enters his handyman Benny who really cannot sing. When Dame Ditty discovers Tommy Tucker and his wonderful voice things look up for her.
Dirty work is afoot though as Dr Discord plots with the witch, Mother Curseum, to put a spell on newcomer Tommy Tucker and steal the prize!
Will Dame Ditty, with the help of her star pupil, Melody, and other friends, be able to find help and reverse the spell?

Make sure you book early for this brilliant show.
It opened on Thursday 17 July2014 and ran for 10 performances to 27 July 2014.